Exclusive Winetasting in Oltrepo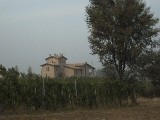 If you are looking for something special, we can arrange accomodation in an exclusive

farmhouse.
The main objective of this family-owned farmhouse is production of high quality wines, which they will be glad to offer to you in their country house, in a relaxed environment, on top of a hill, overlooking the wineries.
You will enjoy great family-style cuisine, with all dishes prepared with locally grown vegetables. And obviously you will taste a selection of the wines produced in the local wineries - all included in the package.
Lodging is organized in an ancient farmhouse, fully refurbished preserving the old layout and style. A very limited number of rooms is available, ensuring quiet and exclusive accomodation. Advanced booking is highly recommended.
The surroundings are fascinating. You will enjoy relaxing walks up and down the hills, in the middle of the wineries.
Special tours of the cellars, and wine tasting training sessions can be arranged.
Click here for additional details and to book your holiday and click here if you look for another proposal in Oltrepo.