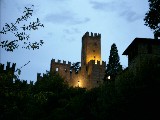 Oltrepo Pavese
Oltrepo Pavese is a vast hilly region stretching from the banks of the Po over the southern reaches of the province of Pavia, as far as the borders with Liguria. The Oltrepo has been famous from ancient times for its excellent wine production, as we learn from Plinio the Elder when he wrote of the hills between Casteggio and Retorbido. During the Middle Ages viticulture was incentivized by the noble houses of Malaspina, Visconti, Beccaria and Dal Verme, up until 1743 when by the Treaty of Worms the Oltrepo was annexed to the kingdom of Savoy.
At present the Oltrepo is the area of Lombardy which produces the most wine, and it has a wide and varied range of Doc wines: still, austere wines, and sparkling wines, along with an inclination towards the production of spumanti, both classic method and charmat.
A special, exclusive area, rich of wineries, beautiful landscapes, places of historical interest, medieval castles...and with a rich, tasty local cuisine. Where great Italian wines mix with typical local dishes, excellent quality salami, the classical "risotti", pasta with tasty fillings, mushrooms, truffles...